CHECK OUT "BIRTHDAYS FOR THE BIBI FUND" OR "SOCIAL FUNDRAISING" IF YOU ARE INTERESTED IN SETTING UP YOUR OWN FUNDRAISER IN SUPPORT OF THIS CAUSE.
---
In November 2016 our lives took a sudden and heartbreaking turn when our 3-year-old daughter, Bianca, was diagnosed with a very rare and aggressive form of brain cancer called ETMR. We will never forget that dark Tuesday afternoon at London's Great Ormond Street Hospital when we were given the results of her histology. We knew something was wrong when we saw Bianca's neurosurgeon waiting for us with an entourage that included a neuro-oncologist and a social worker: "We were surprised. It's much worse than we expected," the oncologist said. "Bianca has an extremely rare grade IV brain cancer called ETMR". But the worst was yet to come; he later told us that our options were either to go home and "make her comfortable," or radiate her whole brain and spine with devastating consequences and a dismal prognosis. When we arrived back home that afternoon Bianca was playing with her twin sister, full of life and healthy in appearance. That day we did not have the strength to look her in the eyes. We were devastated beyond words.
After a week of intensive research we decided to leave London to treat Bianca in Boston. Her year-long treatment included 2 brain surgeries, 6 cycles of grueling chemotherapy, 6 weeks of proton therapy with daily general anesthesia and 2 clinical trials including radio-immunotherapy. Against all odds Bianca is in early remission today. Sadly, we are part of the lucky few as 80% of children diagnosed with her tumor die within 2 years. Bianca's strength an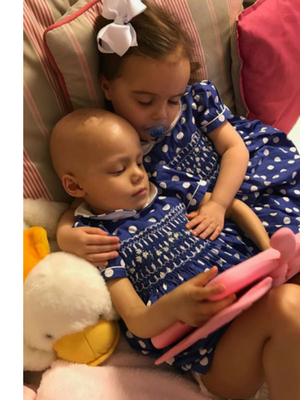 d positivity, as well as the countless wonderful doctors, nurses, researchers and other families we have met along the way, have been deeply humbling and inspiring.
During our journey we got to know the world of pediatric oncology well and its sad realities, the most appalling of which being the inexplicable lack of research funding. Most pediatric cancers are extremely rare diseases which do not financially justify any investments in research. These diseases are largely ignored by the pharmaceutical industry and receive only 4% of government oncology research grants. In the past 30 years only 3 drugs have been approved that were specifically developed to treat children with cancer. The lack of a protocol for many of these cancers makes the difficult journey for families even lonelier. This is unacceptable and we cannot let those children down.
Naturally, we have decided to dedicate a large part of our lives to supporting research for the rarest and most aggressive pediatric cancers: those which need funding the most. To that purpose we have decided to create The Bibi Fund in partnership with a wonderful and inspiring organization, Solving Kids' Cancer (SKC). The goal of The Bibi Fund is simple: Funding innovative research with a focus on the rarest and deadliest childhood cancers.
In order to make 'The Bibi Fund' a success and ultimately save children's lives we need all the support we can get. We thank you from the bottom our hearts for reading our story and we hope you will join us in supporting this very important cause.
With love,
The Niedzielski Family (Bianca, Stella, Gisela and Michael)
---
About Solving Kids' Cancer (SKC)
100% of all donations go to research.

SKC is an independent and nonprofit organization which invests in the highest-impact research projects without any ties to any particular research institution or hospital.

SKC works across borders and in collaboration with other like-minded nonprofit organizations.

SKC has a world-renowned scientific board and a proven track record in finding, funding and advocating for innovative research projects, which create more novel and less toxic treatment options for children with cancer and ultimately save lives.

SKC is a certified 501(c)(3) organization based in New York City. Donations are tax deductible (EIN: 20-8735688)